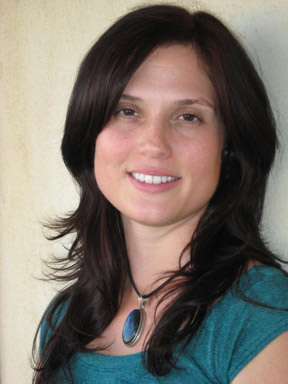 Monica Rose
Monica's passion for Iyengar yoga was ignited in 1996 while studying at the University of Washington in Seattle. While pursuing a Bachelor's degree in Anthropology, she found yoga to be very helpful in balancing the stresses of college life. Along the way, she was fortunate to discover the Iyengar yoga tradition through teachers Joanne Pearson, Aadil Pakhivala, and Richard Schactel. In 2000, after graduating from the UW, she began teaching under the guidance of Joanne Pearson. It was then that she decided to further her yogic studies and to explore the art of teaching.
She moved to the Los Angeles area in 2002 to study with her aunt, certified Iyengar teacher Taryn Rose, and to participate in the three year Teacher Training Program at the Iyengar Yoga Institute of Los Angeles. In her desire to delve more deeply into the philosophical aspects that are the foundation of the practice, she also took classes from the knowledgeable professors in the Yoga Philosophy Program at Loyola Marymount University.
As part of the certification process, Monica was fortunate to have apprenticed with wonderful senior teachers, Sue Garfield and Aida Amirkhanian. To further her studies in preparation for the next level of assessment, she also studied consistently with amazing teachers, Marla Apt and Lisa Walford.
Monica is an Intermediate Junior I Level Certified Iyengar Yoga Teacher. She has had the invaluable opportunity of studying directly with Mr. B.K.S. Iyengar and both of his daughters, Geeta Iyengar and Sunita Parasarathy, while they were visiting the United States.
Monica teaches beginning and intermediate level asana and pranayama classes. She is available for private sessions at her studio in Hollywood. If you would like to be notified about workshops and where Monica is substituting, please "Like" Shakti Rose Yoga.
Click here to view Monica's currently scheduled classes

"It is through your body that you realize you are a spark of divinity." -B.K.S. Iyengar